Espresso Machine Reviews 2016 – Experts Recommendations
Espresso carries a romanticism that comes from the great marketing strategies of Starbucks, Krups, and the like. Don't believe the hype. The attempts to glorify espresso by these companies are really just a sales strategy; that's good marketing. However, while the idea behind making espresso readily available to everyone is well intentioned, the downside is the fog of misinformation which is leaving many people with little understanding of what espresso really is; or, for that matter, how it should taste. The truth is, espresso, made right, is fantastic. In this review, we will cover everything – right from espresso basic to commercial espresso machine.
Recommended Espresso Machines Under $350
Recommended Espresso Machine within Price Range $300-$800
Recommended Espresso Machines above $800
Espresso Machine Type 1: Lever Machines
The lever espresso machine falls in the manual category because there is some work required on your part. Just as the name suggests, you use a lever to squeeze the water through the coffee grounds. An automatic machine might sound more appealing at first, but the manual options create a different flavour that only a human touch provides. With similarities to other manual appliances, pulling the lever on these manual machines can be difficult. There are some models with easy to pull levers, but others require some strength. If you choose a lever machine, make sure you have the biceps to pull the lever. The upside to this machine is that your personal touch gives you more control of the flavour. Personal taste is the reason many espresso lovers prefer manual machines. You decide how weak or strong your shots are.
After surveying numerous lever machines, this machine flared at the top:
This is a large capacity coffee machine which is ideal for your home or small office. This machine comes with 1.3-litre detachable tank that can easily brew espresso for your entire family. The build quality is very impressive and accommodates a wide range of espresso cups. It gets you wide range of flavors with its 16 Nespresso capsules.
Features of KitchenAid KES0504SR Nespresso Bundle
Easy loading capsule system
Brew strength selector
All-Metal, die-cast construction
1.3-litre Removable water tank
Includes milk Frothier and set of 16 Nespresso capsules
Espresso Machine Type 2: Automatic Pump Machines
Different from the above machines, the automatic varieties don't require strenuous work to push the water through the coffee grounds. They don't rely on steam either. The pump does the hard work for you. The majority of the automatic machines are electric but there a few that you can also operate manually.
The downside of these machines, or perhaps the upside depending on perspective, is the coffee has a milder less acidic flavour. As the pump pushes the water through the grounds, there is no need for boiling water; this results in milder flavoured coffee. Most machines available in the market are pump based and will do just about everything for you. Some of the more sophisticated models will even grind your coffee.
After surveying numerous lever machines, these three lever based espresso machines made it to the top.
This is a fine automatic espresso machine. The Breville Infuser Espresso machine doesn't use immediate high pressure like other makers. Instead, it starts with low pressure to fill any gaps in the coffee to extract the best possible flavour. It has both automatic and programmable features.
Features of Breville BES840XL the Infuser Espresso Machine:
Fully automatic temperature settings and volumetric control
Cup warmer
Removes excess water from filter for quicker clean-up
Safety features: One-hour sleep mode and automatic shut off after three hours.
Tall cup clearance for any size coffee cup
'Clean me' and 'Empty me' light indicators
Replaceable water filter
61 fl. oz. removable water tank
1600W thermocoil heating system to circulate water for temperature consistency
Commercial spouts with 54mm stainless steel portafilter
The espresso pressure gauge monitors extraction process to suit your tastes
Hot water outlets for hot chocolate and tea
Steam wand for frothing milk: 360 degrees swivel to accommodate any size jug
Espresso Machine Type 3: Pump Machines for Espresso Pods
These machines still push water with a pump. The difference is they use pods of coffee instead of coffee grounds. This is very convenient. The coffee pods contain ground coffee, so you won't need to grind the beans yourself. Also, there is no need to measure your coffee. You know you'll have a great cup every time. This may seem like an easy way out, but using pods for your coffee falls under beneficial in my book. Each pre-measured pod leaves little room for error; however, this does reduce your coffee choices, as the pods must be compatible with your machine. The fact is you may want more control over your coffee than what this machine will provide.
Nespresso Pixie Espresso Maker, is one of the best machines in this class, with fast preheating time of an impressive 30 seconds, and whole host of other features like backlight indicators, water level detection, auto power-off, used capsule container, convenient power cord storage, this makes your life very convenient.
Features of Nespresso Pixie Espresso Maker
Programmable buttons for espresso and lungo, folding drip tray for larger cups and recipes, brew ready in 25-30 seconds
Backlight indicators, water level detection, auto power-off, used capsule container, convenient power cord storage
12.83-Inch length by 4.33-Inch width by 9-1/4-Inch height
24-Ounce water tank
Espresso Macine Type 4: Stovetop Espresso Makers
The stovetop makers aren't exactly machines at all. There are no parts and you don't need electricity. The entire espresso creation process is manual. Yes, you might work up a sweat, but you will have complete control over flavour. If your espresso doesn't suit your exact tastes, what's the point? Don't let the manual process scare you. The stovetop makers are very easy to use but some espresso fanatics don't see these makers as an option. The finished result is considered by some to be strong coffee rather than espresso but that's for you to decide.
As I said, these makers are extremely easy to operate. The coffee, inside a screen, sits at the top of a reservoir of water that sits on top of the stove. It's that simple. As the water boils, the steam rises and goes through the screen that encloses the coffee and out the top of the maker. Next, the liquid is pushed through a pipe into a chamber at the top where it stays warm. Wait for your water boil and you're in business!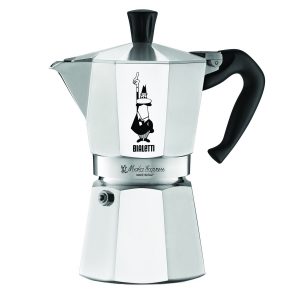 The Original Bialetti Moka Express Made in Italy 6-Cup Stovetop Espresso Maker with Patented Valve works well amongst all the Stovetop Expresso Makers.
This stovetop espresso maker is available in various sizes, but 6-cup is optimum for household usage. If you intend to use this for a small business, then you can select the 12-cup variant as well. A 6-cup variant will produce about 2 ounces of coffee, and this machine has a patented safety valve mechanism.
But there is a caution – do not overheat. Make sure that you read the directions carefully.
Features of Bialetti 6800 Moka Express 6-Cup Stovetop Espresso Maker
Stovetop brewer makes 6 2-ounce cups of espresso in just 4 to 5 minutes
Made of durable polished aluminum in a unique octagon shape
Flip-up top and side-pour spout provide added convenience
Wash by hand with warm soapy water and rinse clean; made in Italy
Measures 4-1/4 by 8 inches
Espresso Machine Type5: Steam Espresso Machines
The steam machines were the first automated espresso machines. They are also extremely easy to use; nothing complicated about this machine. Much like the stovetop machine, the steam espresso makers use pressure to force the water through the coffee grounds. There are plenty of options available in the steam machine category. In fact, most of the budget priced espresso machines are steam versions. Considered a consumer-level option, many of these espresso machines are sold in pairs with regular coffee makers. The details for different models vary but unfortunately, if you're passionate about your espresso, the lower priced steam machine is probably not for you. A die-hard espresso drinker should save up for a higher-priced machine. However, if you are just a casual drinker who's flexible with taste and strength, these models are right up your alley.
If a steam espresso machine is what you're looking for, then give the Breville BES870XL Barista Express Espresso Machine a try:
Fresh espresso right anytime you want. This decently priced machine will also brew cappuccino and latte! For the occasional espresso drinker, this baby is the right model for you! It includes a stainless steel nozzle for frothing milk and a warming plate.
Breville BES870XL Barista Express Espresso Machine is amongst the best semi-automatic espresso machines which can be easily used by beginners and have highly customizable controls for experienced baristas. We've recommended this machine in best espresso machines 2016 in our previous article. Breville has made several improvements over the preceding (860 XL) version. The notable improvements include design makeover and more control over brew temperature.
Features:
67-ounce water reservoir
Automatically adjusts water temperature after steam for optimal espresso extraction temperature
Stainless steel conical burr grinder with 1/2 lb. sealed bean hopper
54mm stainless steel portafilter
Advanced features like espresso pressure gauge, thermocoil heating system, and auto purge system.
Some Common Espresso Machine Myths Busted
A common misconception is that espresso is a type of coffee bean or a special coffee blend. That's incorrect. Any coffee can be brewed as espresso as it is simply a process of brewing coffee. In its most basic form, espresso involves pushing water under high pressure through finely ground compacted coffee.
Once you taste espresso you'll fall in love with it at the very first time. Granted, your neighbourhood coffee spot or corner java hut may satisfy the craving with little effort. However, the convenience of making espresso in the comfort of your own home has a far better appeal, not to mention the taste factor. Slow down. Before you make a move to run out and buy an espresso machine, arm yourself with plenty of information.
Many espresso lovers have found themselves wrecked with buyer's remorse because they lacked knowledge. The thought of having a cup of espresso any-time with a machine as affordable as $100 has lured many people down a road of disappointment. Those machines may be convenient and affordable but they lack the hardware needed to make a proper cup of espresso; buy pre-ground coffee labelled as espresso and you'll find yourself at a similar dead end.
Great Espresso is the Perfect marriage of Art and Machine
If we see making espresso as just an ordinary event – we may as well drink regular coffee. Think of it as an art form. For starters, your own tastes play a big role in brewing a great cup of espresso. Begin by making a few unique flavour decisions and add to that a machine that operates with mechanical precision. Practice makes perfect but the experience you're looking for requires a good machine.
Make no mistake. Good machines are more sophisticated than your average coffee maker. The problem with great marketing strategies from the big coffee companies is that most coffee drinkers have no idea they should expect in a good espresso shot.
The Basics of Espresso Machines
Espresso machines include a boiler with a heating element for proper water temperature. Next, an element that generates pressure will force the water through the coffee and pull the shot: a piston, steam power, or a motorized pump.
There is no shortage of espresso machine types, from complicated to quite simple and everything in between. Whichever type you choose, there are plenty of models in every price range. There are five basic machine types available.
Don't Forget the Coffee Grinder
Some of the more sophisticated espresso machines may come with a grinder, but for the most part, you can't survive without a good coffee grinder. Any upper-level machine is a waste of money without this accessory. A good grinder should produce fine grounds that are consistent in texture; choose a model that allows you to adjust grinding levels.
Never buy a regular coffee grinder; it won't get the job done. A $10 price tag might seem like a good idea, but you should take your grinder choice as seriously as your espresso machine. In fact, an espresso-worthy grinder could cost as much as $300 and maybe even $500 based on the ability to adjust precision.
How Does Good Espresso Taste?
Once you taste your first well-made espresso, you'll know the difference! Espresso made with care by someone who understands espresso should have a rich flavour. A non-commercial machine could never imitate this flavour. When someone truly understands this coffee art, the tastes will vary depending on flavour choices. Some are floral or chocolaty; well-made espresso never tastes burnt or bitter. Until you learn to make your own espresso catered specifically to your tastes, much of what you order in a public place will be brewed to please a wide range of coffee lovers. It's an acquired taste and you may not like your first shot. Don't let that stop you. You might just prefer a different blend. Keep at it until you find the espresso flavour that suits you. Don't let your neighbourhood coffee shop give you a slanted notion of how good espresso should taste. You'll have to decide for yourself through practice. Keep experimenting.
What Else Do I need to Know?
A good espresso machine can cost as high as $5,000 for commercial espresso machine models. Most connoisseurs agree that you can purchase a good model for home usage for $350 to $850. The important thing to remember is that machine reliability is the most important factor. The machine you choose should be stable with heat consistency. Even the smallest change in heat can affect flavour. Choosing the right machine sounds like a tricky process. It doesn't have to be, stability and construction is what matters most. So go on, and relish on espresso with the best espresso machine.