Out of hundreds of coffee maker brands available out there, undoubtedly Keurig is one of the most popular ones. With the years of domination in coffee makers market, Keurig has already given so many kick-ass models and choosing the best out of those models is a hectic task especially when you are buying a Keurig coffee maker for the first time.
Best Keurig Coffee Machines 2019 – Top Keurig Models Compared
Here are our top 5 recommended Keurig models:
Keurig is launching new models in the market every six months, and every new product has some or the other innovative features than existing models. If you choose any random model by Keurig, you might face issues such as – refusing to switch on, observing the surprisingly little amount of coffee coming out or even water leakages from the machine.
That's the reason why we've decided to dig into these Keurig coffee makers and tested every other Keurig coffee maker out there for more than months. To be honest, many of the models sucked, but there are some of the best Keurig coffee makers available. Refer to the following curated list of Keurig coffee makers and choose your coffee maker.
As we know Coffee is a guilt-free addiction, an awesome coffee maker can make your day happy and productive. On the other hand, if you choose wrong model – your affair with it could be short with a painful end. In order to simplify your decision of buying the best Keurig coffee maker – we have done an extensive research on the highest rated models currently available in the market.
In this roundup, we have considered options such as best Keurig model for home and commercial use.
Keurig Coffee Machine Reviews – Our Top Picks!
We have done an extensive research on 100+ Keurig models available in the market and here are our top recommended Keurig coffee makers for you.
1. Keurig K145 OfficePRO Coffee Maker – Best for Office Use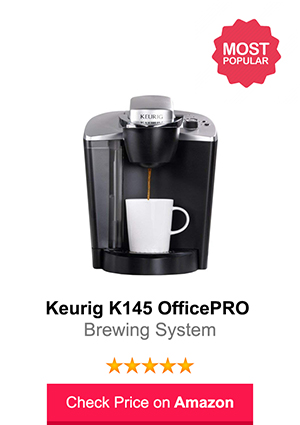 When you are looking for the best Keurig Coffee Maker for your office needs, Keurig K145 OfficePRO Coffee Maker should never be off the list. This always-ready-to-use brewing machine comes with the minimum brewing time of less than one minute, which is something incredible for office use. You just have to fill the required elements and choose the size — it can brew in 6oz, 8oz or 10oz, according to your need — and you will have the coffee in K-Cup Pod.
It comes with a 48-oz removable reservoir, which is suitable for office use. Talking of the convenience of use, it's usable in all aspects. Thanks to the Drain Brewer button included, you can drain the whole system for portability purposes. In short, if you are giving preference to the convenience of use, Keurig K145 OfficePRO Coffee Maker won't disappoint you. Versatility is another awesome feature of Keurig K145 OfficePRO Coffee Maker for sure. You can pick one from the 60+ collection of flavored K-Cups and have the desired beverage from this single machine. Also, the machine has been dedicatedly made for office purposes, with the best quality materials in use. So, regardless of the number of coffees brewed every single day, you don't have to worry about the health of the machine.
The few issues people find with Keurig K145 OfficePRO Coffee Maker is the Noisy behavior and minor incompatibility. For instance, the brewing process is quite noisy and the machine may not be compatible with some K-Cups. Despite all these cons, Keurig K145 OfficePRO Coffee Maker is an incredible choice for most of the office environments out there. It's easy to use, has the lowest brewing time and comes with least amounts of maintenance efforts. Now, you know why Keurig K145 OfficePRO Coffee Maker is one of the best Keurig Coffee Makers for Office in the list.
2. Keurig K55 Coffee Maker – Best for Home Use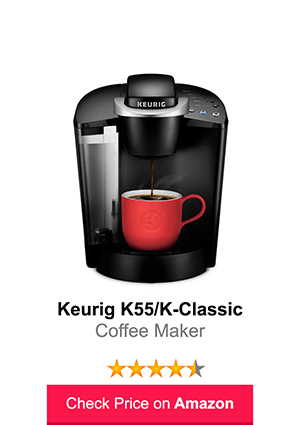 If you have searched for Keurig Coffee Makers in Amazon or somewhere else, you will have seen Keurig K55 Coffee Maker in the Best Sellers list. This brewing machine is a combination of flexibility and uncompromised taste in a single machine, giving you the best coffee every single day. Although it is used for home and office purposes, Keurig K55 Coffee Maker is normally opted by home users. The best thing people love about this brewing machine is its easier setup.
It does not take more than a few seconds to assemble this machine at your room or office. After a few minutes' calibration and the filling of the reservoir, you are ready to make your first coffee from Keurig K55 Coffee Maker. Just as we saw in the above-mentioned coffee maker, this too is equipped with a detachable water reservoir. Thanks to the size of 48oz, you can brew around 5 cups of coffee in the single refill. As an addition to ease of use, Keurig K55 Coffee Maker has an Auto-Turnoff button. The best part about this coffee brewer is that you can create ground flavors and different flavors of coffee, as per your taste. By removing the K-Cup, you can even get hot water for oatmeal.
One of the serious cons of Keurig K55 Coffee Maker is that it does not have a descaling option. So, cleaning the brewing machine would be a tough job for most people and you may need to use vinegar or some other liquids for that purpose. Apart from this, Keurig K55 Coffee Maker is an excellent choice for home purposes. If you have a small home with just two people or so, this is the best Keurig Coffee Maker for your home purposes. And, it's easy to set up and gives you the best coffee every single time you brew.
3. Keurig 2.0 Series K250 Coffee Maker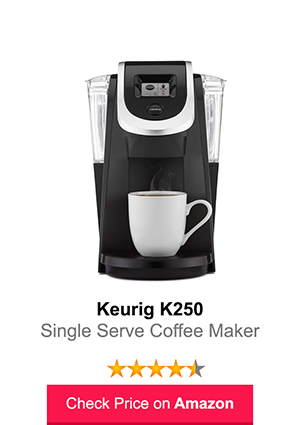 If you are looking for an awesome coffee maker from the Keurig 2.0 Series, Keurig 2.0 Series K250 Coffee Maker will be an incredible choice, for sure. The 2.0 Series is different from the other series in some aspects, but the brewing technology is the same. Once again, it's a brewing machine that is made for home and office uses. The initial setup and configuration of this coffee maker is a bit complex than the other ones. However, once you have done with the initial setup, your dream coffee is just a minute away.
Keurig 2.0 Series K250 Coffee Maker comes with a water reservoir of 40oz and this small one has been located at the back portion of the coffee maker. Thanks to the design, it is compacter than the other makers in the same series. One prominent feature pointed out in Keurig Coffee Maker Reviews is that this Keurig 2.0 Series K250 Coffee Maker supports a variety of K-Carafe and K-Mugs; so, you will be able to brew coffees in large sizes. Altogether, the operation of this coffee maker is impressively simple. Another cool feature is called Strength Control. Through a simple step, you can control the strength of the coffee — between light, strong and medium. And, did we say that Keurig 2.0 Series K250 Coffee Maker is cheaper than the most other coffee makers.
Talking about the cons, the only issue with Keurig 2.0 Series K250 Coffee Maker is the level of restriction. You will not be able to use third-party K-Cups for brewing coffee or other beverages. On the other hand, you need to have the native Keurig-manufactured K-Cups. Conclusively, this coffee brewer does not offer advanced offers like temperature control or so. But, you can certainly brew coffees in larger quantities. Considering the price as well, Keurig 2.0 Series K250 Coffee Maker is a good choice for average coffee drinking needs.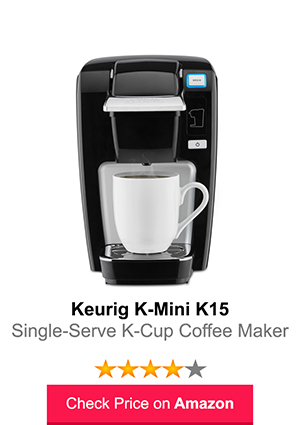 Are you looking for an ultra-compact, simply-operational coffee brewer for your home? Then, Keurig K15 Coffee Maker is a good choice you can go for. Even if you are in a hostel room or studio apartment, this coffee maker will not consume a lot of space. On the other hand, it needs to be noted that the compactness does not affect the taste or quality of coffee that is brewed. Another thing that includes Keurig K15 Coffee Maker in our list of best Keurig coffee makers is the easiness of operation. You have to add the required water and place the K-Cup; you can have the coffee in some time.
Talking more of convenience, it is pretty easy to deal with Keurig K15 Coffee Maker. You have to press the button and it's having different indicators for easier recognition. In a few minutes or so, you can have your medium-strength coffee. Also, it does not take much effort or time to clean the coffee maker, but you would need a dedicated descaling solution to do that. Just like the other Keurig coffee makers, it too comes with versatile compatibility. You would be able to use all kinds of K-Cups with the maker, and you can also use My K-cup if you want. In case if you didn't notice, it supports those third-party K-Cups too.
Indeed, there are some limitations for this Keurig K15 Coffee Maker. The first thing is that brewing process is comparatively slower. Depending on the quantity, around 2 minutes will be required for brewing a single cup of coffee. It does not come with a reservoir; so you have to refill every time you need a cup of coffee. So, in consideration of both the pros and cons, we can say that Keurig K15 Coffee Maker is a compact choice with inexpensive pricing. By paying a shorter amount, you can have the easy-to-use operation, minimal ways of cleaning and support for native and third-party K-cups. It's equally suitable if your living room isn't so spacious.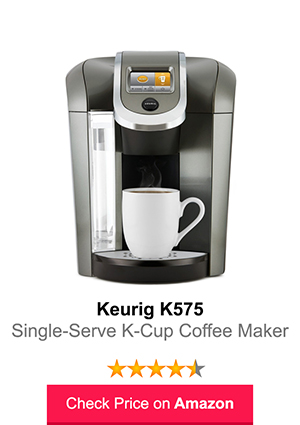 As you can guess, Keurig 2.0 K575 Series Coffee Maker is another coffee brewing machine from the Keurig 2.0 Series. This is actually an upgraded version with options for high-quantity coffee brewing. It is packed with a water reservoir of 80oz size, which is the largest reservoir in the product range of Keurig coffee makers. It also comes with a feature-rich touchscreen display that shows enough details about the brewing process. Except for the normal calibration, the machine does not consume much time for initialization process. Obviously, in this upgraded version, you can have some cool features too.
The best part is that you can brew the best coffee in larger quantities. If you can get the dedicated K-Carafe pack, you will be able to get the coffee in up to 30oz. Along with the touchscreen, there come advanced control options too. That's why we can call Keurig 2.0 K575 Series Coffee Maker one of the most advanced coffee makers in the list. For instance, you will be able to customize your coffee through strength control and scheduling. Yes, if you want coffee to be prepared at a certain time, you can program it to do so. Coming to the versatility aspect, Keurig 2.0 K575 Series Coffee Maker will work fine with all the Keurig-made K-Cups, but the third-party ones don't work. In addition, if you want to brew ground coffee, you can get My k-Cup 2.0 Reusable Filters as well.
It needs to be noted that the programming feature is available for K-Carafes only. It does not work with K-Cups. This is a serious con of Keurig 2.0 K575 Series Coffee Brewer. Also, it's a serious issue that you cannot use third-party K-Cups. That having said, Keurig 2.0 K575 Series Coffee Maker is useful for office purposes, thanks to the 80oz reservoir. It's a good thing that you can brew up to 30oz in a single cup. Also, for hard-core coffee makers, it offers a bunch of customizations as well.
How to Choose the Best Keurig Coffee Maker?
Keurig is, as we mentioned earlier, one of the best ways to make the consistent coffee — all the days. Yet, it does not mean you can go to the store and randomly pick a machine from there. There are a few things you should know if you are looking for a value-for-money Keurig coffee machine that gets you the coffee you will love, no matter what. So, we would list out a few factors you should consider before choosing the best Keurig coffee machines for your needs.
The Purpose: Keurig Machines are actually designed for home users, where you need a quick cup of coffee. However, there are a few exceptional Keurig coffee machines that can offer enterprise-level performance and quality. So, it is necessary to consider the intended purpose before you pick the Keurig machine from the list.
Brewing Cup Size: Of course, you will be brewing single cups using the machines. However, depending on the coffee addiction you have, you would have an optimal size of the cup. Make sure that the Keurig machine you own has all the options for adjusting the cup sizes — the task is pretty easy, by the way.
Water Storage Capacity: Most people don't really like to refill the water reservoir on a frequent basis. If you are one of them, you've to get a Keurig machine that can store a huge amount of water. In the market, you'd find Keurig coffee makers that have 40oz to 80oz of water reservoir capacity. Also, consider the number of cups you will have a day.
Adaptability with Filters: You may not be able to get K-Cups all the time. At times, when you have to use the favorite ground coffee, it becomes essential to use an Ekobrew filter or My K-Cup. If you're one of those people who value the space for coffee taste experiment, make sure that the Keurig lets you choose the filter of your choice.
Size and Design: Apart from the looks in your kitchen, these things can decide how much space from your countertop is going to the machine. Unless it is necessary, you should get a compact Keurig coffee machine. It's a trusted firm that does not compromise on quality, even on the smallest machines — and you don't have to worry.
Programmability: Some Keurig machines let you program the coffee maker to turn on and brew the coffee at a certain time. Suppose you wake up in the morning at around 6, and you can have the coffee ready at the same time. It's an additional comfort, but a worth considering feature in Keurig.
Brewing Time: Don't you prefer spending some time in front of the coffee machine to get the cup ready? Well, then, you'd have to choose a machine that has lesser brewing time. On the other hand, if a machine ensures great taste, it's okay to wait some time, don't you think?
Additional Features: Keurig coffee machines come with different additional features. They are pretty optional for most users, but a few of them such as Removable Drip Tray, Hot Water Dispenser, and Auto-Turn Off are really useful.
If you make the right choices from the above mentioned sections, you would definitely have the best Keurig machine for your requirements and comfort.
Keurig Coffee Maker Troubleshooting Guide for Newbies
Despite the higher quality and features, some things may go wrong with Keurig coffee makers. But, you do not necessarily have to contact the customer care to fix all the issues. There are a few things you do to fix a Keurig coffee maker. Here, we will share some useful tips and methods for troubleshooting your Keurig.
If Keurig isn't Brewing Properly: There can be many reasons why your Keurig machine is not brewing coffee, the probable one being an intense accumulation of debris. Calcium scaling also can cause the same problem. To fix this, you have a kind of easy solution. What you can do is to thoroughly de-scale and clean your Keurig machine. Once you have removed all the debris that can be removed, you can use vinegar as the cleaning agent. The idea is to mix water with some drops of vinegar and let it stay inside the machine. This way, you can deal with most of the calcium debris and scale.
The Keurig is Turning On and Turning Off automatically: The major reason for this issue should be with the Keurig Automatic Timer. By you or someone else, it would be set to perform the brewing task at a certain time. So, the best thing you can try is to turn off the Timer. If this does not work, there may be something wrong with the circuitry inside. In that case, it's recommended to contact the Keurig support team.
Keurig Coffee Taste is going Bad: This is a common problem you would face if you are not cleaning the machine on a regular basis. Once in a while, you have to clean the machine thoroughly. That way, you can be sure that there is no debris or water clogging in the machine. You can also get rid of possible issues with metal parts if you can use vinegar water. Make sure that the cleaning methods are proven to be effective and healthy as far as the coffee maker will be concerned.
I Get 'Add More Water' Error all the time: This is another issue that is observed with some customers. There can be two options. Either, the amount of water in the reservoir isn't enough for the cup of coffee you have selected. If that's the case, you can pour in some more water and it would be good. On the other hand, if that does not work out, you have to take out the reservoir and do something. First of all, you have to get a thorough cleaning for the reservoir and get rid of all the debris. After that, you would be able to fit the reservoir in the right position — with no error at all. This solution would fix the issue.
Keurig says prime: Your Keurig coffee maker might give you a message which reads "Prime". This is a red alert which could mean that you need to restore order into your machine which might not be working properly of late. Your "Prime" error could be caused because you've failed to properly attach the water reservoir to your machine. Sometimes, it's just a matter of switching off, unplugging, and reattaching.
Keurig not heating: If your Keurig is not heating properly, it could be because your machine's heating mechanism is probably shut off. The reason for this could be because your water pump might not be functioning well. When water is not being pumped through the brewer, the heating device shuts off to prevent the coffeemaker from overheating. In a similar manner, if the water pump does not work properly the coffee maker will signal the heating device to shut off. This means that you have to reset the water reservoir.
Keurig not pumping water: When your Keurig stops pumping water properly it means the water flow has been clogged and a major reason for this could be because your machine has not been descaled well. The best way to descale it is with the use of vinegar. Take white vinegar and fill up half of it with white vinegar and half of it with water. Now run the water cycle until you know you have to add more water in it. Post this, clear the reservoir of the mixture and then rinse off properly.
These are the only few issues that you may find in Keurig coffee makers. And, the solutions would be just awesome too. if the steps don't end up fixing your issue, you have the Customer Care to contact.
Frequently Asked Questions
Why do you descale a Keurig?
Descaling a Keurig is the process of removing minerals from water. Because the heating elements in a machine can't be seen, months of mineral buildup could exist without you knowing it. When these minerals build up over a period, it could have a negative impact on the Keurig coffee maker. And in that case, your Keurig machine will not reach its optimal temperature when brewing water. Or it could also lead to clogging of water flow.
What can you use instead of descaling solution?
Don't use softened water for cleaning Keurig. Spring water or bottled water works best for cleaning purpose. You could also try cleaning the exit and entry needles of the machine if you see it is not working properly. You could also force wait through the water with the help of a straw that can help to dislodge the debris.
Can a Keurig be repaired?
Yes, Keurig can be repaired at home as well. Here are two easy ways:
Disassemble It: Remove the water tank and its lid, along with the stand your coffee cup rests on. Open the top and remove the K-Cup holder. Wash these pieces in warm, soapy water and dry.
Unclog the needle of the machine: Get a paperclip and partially unbend it. With the Keurig's top open, carefully insert the free end of the paperclip into each of the three holes along the needle that pierces the K-Cup. Jiggle the paperclip around then remove it. Don't worry about harming your machine: there are no working parts here, just holes that get clogged with scale and debris.
Summing Up
So, these are the best Keurig Coffee Makers you can go for. As you can see, each of the coffee makers is accompanied by a bunch of features, but you have to choose well. For instance, the Keurig 2.0 K575 Series Coffee Maker is offering advanced methods of coffee customization and brewing control but takes up enough space. On the other hand, as you have seen in our Keurig Coffee Maker reviews, some coffee makers don't require much space. That is, you can use them even in some of your workspaces or studio apartments. Also, while selecting, you should consider your purpose of coffee as well as the controls you need. If you are an active coffee drinker, you won't need much of customization options. So, choose well and have the best coffee from Keurig Coffee Makers. And, we repeat, Keurig coffee will never get you down in terms of quality and taste!
Must have keurig coffee makers at Home or Office - A Detailed Buying Guide
Keurig K145 OfficePRO Coffee Maker

Keurig K55 Coffee Maker

Keurig 2.0 Series K250 Coffee Maker

Keurig K15 Coffee Maker

Keurig 2.0 K575 Series
Summary
Keurig is one of the top brands when it comes to manufacturing top quality coffee makers. But, most of the times people ask questions such as 'which is the best keurig coffee maker model?'. We have done an extensive research on 100+ Keurig coffee models and based upon 30+ tests performed by our coffee experts - Here are our top recommended Keurig Coffee Makers for various requirements and budget.