Who would not love to have a fresh cup of coffee every morning? We bet you would love to have the persistent taste of the exact flavour you desire everyday right? But how?
For getting the persistency in the flavour of your coffee, there are certain aspects. The two major factors that you have to choose is the kind of Coffee Bean that you want to have for the flavor you desire, and the kind of coarseness that you want in the ground beans.
Today we will be talking about everything that there is to know about coarse ground coffee so that by the end of this article you can choose your coffee perfectly and experience the heavenly taste.
Why is it so important to choose the grind size carefully?
When you are going to make coffee, there are a few fundamental ingredients that are needed like roasted coffee beans, heat, water, sugar if needed, and of course the coffee pot.
But if you mix all of these ingredients and hope that you will have the best of the coffee, then you are incredibly wrong. Collaborating any kind of coffee beans or coffee grind with water, sugar, and heat won't be enough for your great tasting coffee.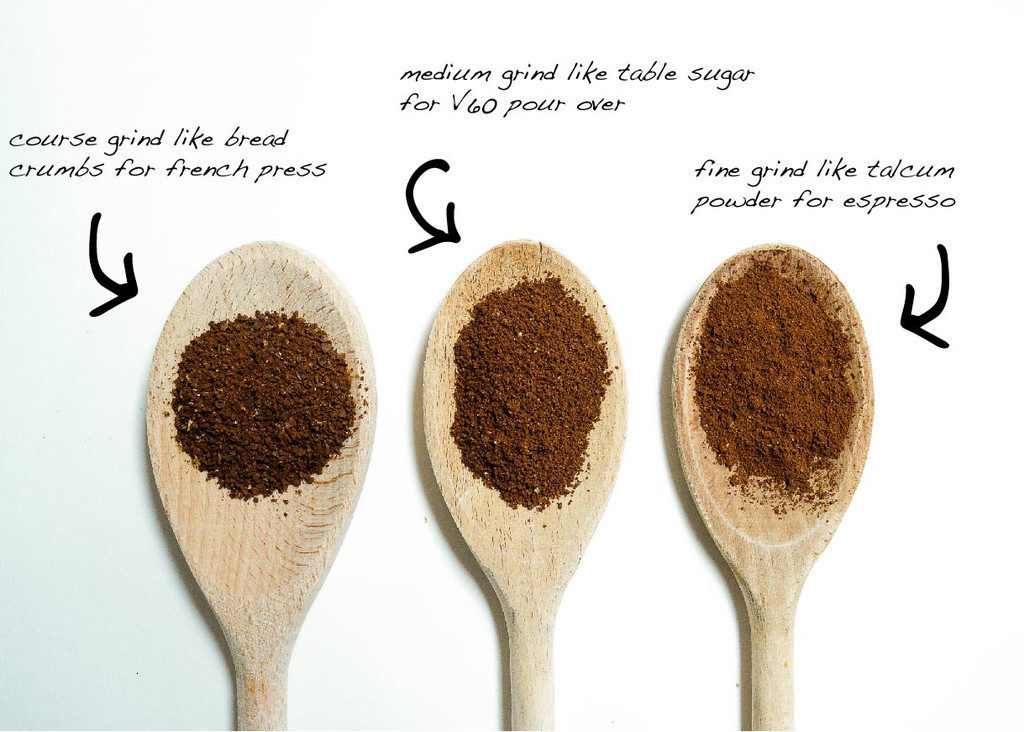 Therefore, you need to know about the brew ratio that makes a perfect coffee. That will include you to know about the right kind of temperature, the right volume of coffee beans, the perfect extraction time and of course the perfect volume of water. If you want your coffee a bit sweeter, you can go for sugar as well.
It has been tried and tested that with the help of the modern coffee making machines the ratio will turn out to be just fine. Even the traditional machines like the Moka pot and the French press have specific standards to rectify any wrong brewing ratio.
But even then you will sometimes see the coffee might taste disgusting. Now how will you solve this problem?
The only solution to the seemingly unending problem is definitely to check out the coarseness of the coffee grinds.
What are the different types of coffee grinds?
Whenever we are talking about the coarseness of coffee, our main attention is towards the size of coffee beans that we have taken.
First is coarser grind of coffee
Coarse grind of coffee means when the beans are big, and the grinding is done very little so that there are large particles of coffee beans. In the case of this, the hot water can only bind to the outside part of the grinds, and the is observed slowly when the water seeps from the outside to the inside gradually.
Second is the fine grinds of coffee
Find grind of coffee means the coffee beans are ground very well and therefore there is a smooth powdery texture to it. When the hot water is good, it since the grains are small the water can extract the flavor much faster than the former one.
Now you know that there is a difference between the fine and coarse grind of coffee. But those are not only the two types because even the subtypes are prevalent. Look at some of these subtypes and how you can understand which one to choose:
Coarse grind coffee
Medium coarse grind coffee
Medium grind coffee
Medium fine grind coffee
Fine grind coffee
Extra fine grind coffee
How to find which grind to use how?
There are some coffee makers, which are most suitable to be used for the different coffee grind. You should not be afraid to try out the variations of the grinds that you can use to obtain a creamy coffee taste.
Aeropress
When you are using Aeropress, you need to insert find two medium fine grinds for the optimum taste. Most of the Aeropress devices are adjustable, and their working mechanism is very similar to espresso- which means we pressurize the hot water into the coffee grounds quickly rather than brewing slowly. Therefore, to get the optimum taste you need to find finer grounds so that even when the process is quick, the water can retain the flavor.
AeroPress Coffee and Espresso Maker - Quickly Makes Delicious Coffee without Bitterness - 1 to 3 Cups Per Pressing Price: $29.95
Full Disclosure: We earn a commission if you click this link and make a purchase, at no additional cost to you. Last Updated: 09/16/2019
If you want to do an experiment, you can try and put coarse ground coffee, but the Aeropress will give an output of Under extracted pot of coffee if you are trying to make things quick. Or else, you have ages to wait before the optimum extraction takes place.
Drip coffee brewers
We would all agree to the fact that the drip coffee brewers are very easy to handle as all we have to do is to add water to the coffee grounds and let it be. It is advised that in the case of these brewers, you choose the medium-fine coffee grounds.
Breville BDC450 Precision Brewer Coffee Maker with Thermal Carafe Price: $299.95
Full Disclosure: We earn a commission if you click this link and make a purchase, at no additional cost to you. Last Updated: 09/16/2019
Unlike the espresso out the Aeropress machine, the water is used as quickly through the grounds, but still, the water will run Straight Through the coffee, and you might not get the actual flavor if the grounds are coarse in texture. The medium fine ground ensures that the coffee is neither under extracted nor over extracted, so it leaves enough flavor in the coffee.
Espresso machine
Did you know that in case of real espresso machines, it takes about 9 bars of pressure to pull? These machines are undoubtedly quite expensive because it makes the strongest coffee with the absolute dark flavor. It is essential that you put nothing but find ground coffee in the machine because it takes less than 30 seconds for the hot water to pass through the coffee grounds.
Breville BES870XL Barista Express Espresso Machine Price: $519.99
Full Disclosure: We earn a commission if you click this link and make a purchase, at no additional cost to you. Last Updated: 09/16/2019
But it is vital that your distribution in the group handle is correct and you have given the correct amount of coffee as well. Just in case you like the consistency you might have a weird combination of over and under extracted coffee in the same pot!
French press
Now we come to the kind of device which will require coarse ground coffee. The French press has nothing similar to the Aeropress, espresso, or drip brewer. Therefore, it soaks the coffee grinds in hot water for a prolonged period, which means that the water has enough time to see through the interior of the coffee grounds.
French Press Coffee Maker With 4 Level Filtration System, 34 Ounce Price: $23.95
Full Disclosure: We earn a commission if you click this link and make a purchase, at no additional cost to you. Last Updated: 09/16/2019
In the case of the French press if you use fine ground coffee, then the coffee is more likely to be over extracted. To check if you are struggling to put down the plunger, then be sure that you have grounded your coffee too far.
Automatic coffee makers
This kind of coffee makers mostly suit medium to medium fine grinds of coffee, indifferent about whether they use some pressure to push the water through the grinds, or make use of the drip system. These are very generic coffee makers, and they are having a reset extraction time.
Price:
Full Disclosure: We earn a commission if you click this link and make a purchase, at no additional cost to you. Last Updated: 01/01/1970
So you have to do is to stick to a perfect amount of coffee, and you will have the optimum taste you require. The time is ample for extracting the flavor out of the medium to medium fine grinds.
Moka Pot
What can be found in every home and it requires a powdery fine grind coffee, just like an espresso machine.
Stovetop Espresso Maker - Moka Pot 6 Cups Demitasse Espresso Shot - Stainless Steel - AMFOCUS Price: $33.99
Full Disclosure: We earn a commission if you click this link and make a purchase, at no additional cost to you. Last Updated: 09/16/2019
The functionality of the Moka Pot is to turn the hot water into steam which then pushes through your coffee grinds, and it gets ready to be poured out. It is not as fast as an espresso machine would work, but it is effective for making strong coffee because of its longer extraction time.
So finally what are the coarse coffee grinds best for?
The French press uses the coarse grinds best and brings out the optimum taste. Once you know the right amount of coffee to put in your French press, you will love the rich taste of strong and smooth coffee.
If somehow you feel that your coffee is coming in a sour taste, then you should make your coffee Grounds finer. And if it is to be there for your taste, then either reduce your emotion time or use coarser coffee- or do both.
What are the two methods of grinding coffee?
Pre-ground coffee found in markets
Very easy to make
Comes in measured packets
The consistency is perfect
Would not be as fresh tasting due to prolonged package and storage
Highly expensive
Home ground coffee
The test will be unique
Especially with a manual grinder, the smoothness will increase
Gives a better sense of precision to make the perfect coffee grounds for your device
A bit more time consuming
For all the coffee lovers out there, it is always advisable to ground your coffee because it gives an out of the world experience. Now that you know everything about coarse ground coffee, your perfect coffee is up to you to be prepared! Be the perfect coffee dork, who is not only perfect while recognizing the taste but also a perfect coffee maker!