All Nespresso machines use the same range of capsules and basic capsule coffee systems to prepare a yummy cup of coffee for you. To get the best Nespresso machine for you, first think about what kind of coffee you want to make to satisfy your appetite. If you want a swift espresso shot in the mornings then save some cash and look for a coffee machine model that don't have a milk frothing feature. Take a look at the following Nespresso machine reviews and choose the one that fits your style.
Best 5 Nespresso Coffee Machines for You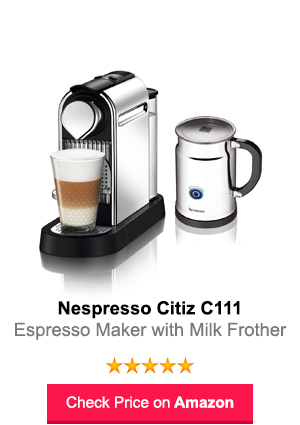 This is also one of the most compact Nespresso machines. The modern design is available in three different colors. It takes around 30 seconds to produce a shot of espresso and the milk frother is easy to use to make your cappuccino. The cleaning process is really simple and you can disassemble and assemble the machine with ease.
It's foldable to accommodate a short or even a tall cup of coffee with just a push.
The Citiz shuts off automatically after 30 minutes to conserve energy.
You may also set your own preferred volume by simply pressing one of the brew buttons down to get the intensity you'd like.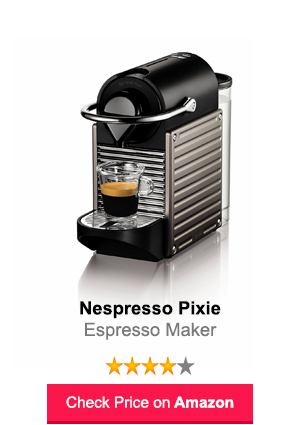 While the Nespresso CitiZ is compact, the Pixie is even smaller. It has a bigger water reservoir than Nespresso CitiZ. Thought Pixie has a smaller reservoir as compared to CitiZ, but hass a flashing light which warns you when the water level is low. This is a solid as well as compact espresso machine.
This ultra-compact machine brews one perfect cup at a time.
Works exclusively with Nespresso's premium coffee capsules for locked-in freshness and convenience with no mess.
Brewing is fully automatic – simply pop in a coffee capsule & select your cup size.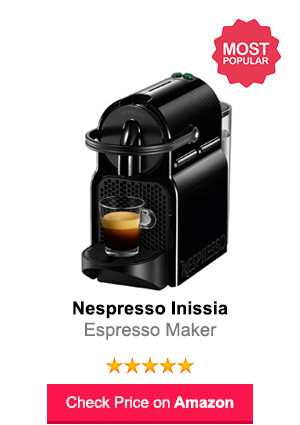 The Nespresso Inissia is the most affordable Nespresso machine. It can hold 11 capsules easily. In order to get the smaller price tag, Nespresso created this machine with economical parts. The bulk of its components are made from plastic, as opposed to stainless steel or aluminum. Inissia is the cheapest Nespresso machine and is a great choice for those on a budget that simply want to give this whole home espresso thing a try.
Inissia comes in a vibrant color palette to suit all tastes.
With is compact size, it can be fitted in any home settings, from kitchen or living room to guest room.
Inissia neither compromises quality nor functionality.
It heats up in just 25 seconds.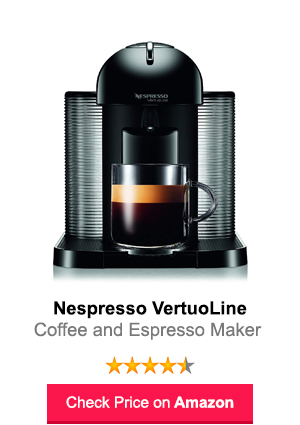 For something a bit different, there is Nespresso Vertuoline. This is actually the combination of an espresso machine and normal coffee maker in one. Vertuoline will let you taste both simple coffee or an espresso coffee, appetizing your taste buds. Vertuoline uses two different sized capsules to recognize the type of coffee you are preparing. The espresso capsules are smaller in size.
There are 12 different capsules to choose from.
There is also a decaffeinated capsule and even a half-café option.
Operating this machine is as simple as operating single serve coffee maker.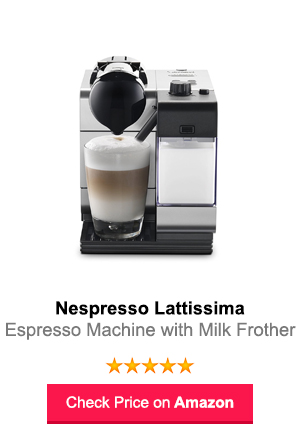 This is a sleek Nespresso DeLonghi U Milk machine that can brew in just 25 seconds and has a water tank that's movable. It has an incorporated Aeroccino Plus hot and cold milk frother to make lattes and cappuccinos. It has a soft-touch interface that has three pre-programmed cup sizes and an adjustable magnetic cup support for each size.
It heats water to within 25 seconds to brewing temperature and has an integrated Aeroccino milk frother for fast cappuccinos, lattes and other milky favorites
This machine has indicators to let you know when the water tank is almost empty and when the capsule container is full.
This is one of the cleanest coffee machines you can get thanks to clever no-drip technology.
Wrap-up
Here, we have listed the best 5 Nespresso coffee machines for you that can prepare coffee according to your needs. Moreover, the machines are sleek and portable too. So, you can definitely eye over these machines and buy any of them to fulfill your coffee needs every day.