Last updated: May 2nd 2017.
There are numerous reasons for getting a single-serve coffee maker. It saves both time and money that you would otherwise spend in a café. Moreover, unlike other complicated coffee makers, the single serve machines get you a cup without mess.
In line with our other reviews, we thoroughly inspected various single serve coffee makers and listed the top 5 among them. In this review, (write about the factors)
Top Selling Single Serve Coffee Makers of Year 2017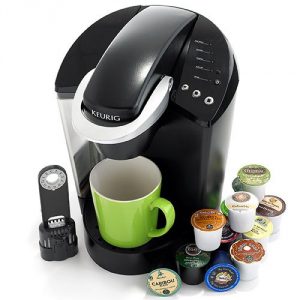 Available in multiple colors, the K45 can dispense fresh coffee within one minute. It comes with all the accessories that you need and has a good 48 oz water reservoir. It is good for single serve coffee maker for a small family. It can brew coffee, tea, iced beverages and so on.
Key Features
48 oz. Water Reservoir
Kit includes: 1 Water Filter Handle, 1 Charcoal Filter, 12-count K-Cup Variety Pack.
Auto On-Off feature, Indicator lights
Cons: Those who've used Keurig for years would notice a drop in the quality, and K45 is no exception. It is not the performance but the built quality. Hence, it needs a very careful hand – while both operating and maintaining.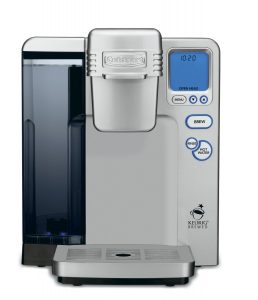 This heavy duty single serve coffee machine reprieves you of frequent refills. It just makes the entire process swift. It works with all sorts of pods. SS-700 comes with a whole host of automatic systems, and features over 200 varieties of pre-measured, premium brand coffee and tea.
Key Features
5 cup sizes, including iced beverage setting and removable drip tray for tall travel mugs.
Fully programmable blue backlit LCD with digital clock, auto on/off and adjustable temperature.
Kit Includes: My K-Cup Reusable Coffee Filter, charcoal water filter, 12 K-Cup Portion Pack and instruction book.
Cons: Design is, unfortunately, the biggest con of this machine. Using the machine without cleaning in for a prolonged period of time can cause air bubbles to creep in, and coaxing them out does take some time and effort. Apart from it, SS-700 just works fine.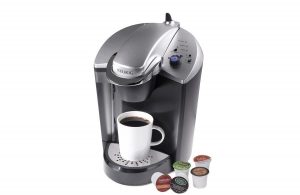 This single serve coffee machine is perfect for small offices, this coffee machine comes with a wide range of features in addition to Keurig's K45.
Key Features
Brews 6 oz., 8 oz., and 10 oz. sizes
Auto-Off feature
Easily drains for transport and storage
Removable 48 oz. Water Reservoir
Cons: Although K145 has an improved pump system, it is still marred by not so great build quality; as a result, the dispensed coffee has a distinct plastic taste. Also, since the pump is littler stronger than K45, it is a little louder. It doesn't replace your conventional coffee makers but does a fine job in serving you with a quick cup of coffee without any mess.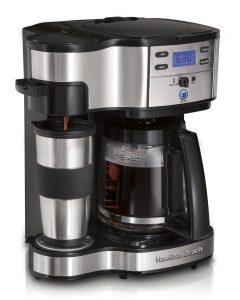 Comparison of Single serve coffee brewers is incomplete without Hamilton's 49980A. Its versatility and the power that it gets you in terms of brewing makes it one of the highly customizable single serve coffee browsers. The Carafe-side helps you brew for the entire family while Single-serve side delights with a quick cup of coffee.
Key Features
Two ways to brew — single cup or full 12-cup glass.
Brew strength selector for brewing REGULAR or BOLD preferred flavor/strength.
Control panel and display, with hour and minute buttons to program the brewing time up to 24 hours beforehand.
Equipped with programmable timer with 2-hour automatic shut-off.
Cons: Apart from a little more water loss than comparable coffee makers, it works fine in all other aspects. Surprisingly the build quality of 49980A is better than other single serve coffee makers, and at sub $60.00 tag, this is our top recommendation for coffee makers. Since it is loaded with a few extra features, it would take you some time to understand it, but once you get used to it, it should be a piece of cake.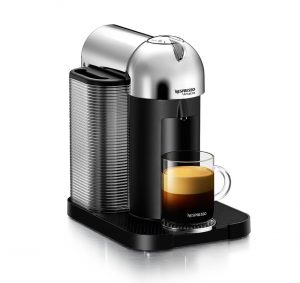 Available in three different colors, this featured pack GCA1 is a single serve coffee cum espresso maker. It has two cup sizes for 8 oz. Coffee and 1.35 oz. espresso. One touch brewing and the centrifusion extraction technology gets you a perfect aroma.
Key Features
Capsule recognition and code reading technology for blend-specific parametric brewing.
Easy insertion and ejection of capsules.
Automatic off mode after 9 minutes of inactivity; Fast heat up time 15 seconds.
Cons: While this is a great single coffee maker unless you want a duo of both espresso and coffee maker, a $200 price tag can burn a hole in your pocket. This roughly two to four times more expensive than other single serve coffee makers.
You should also check: Best coffee bean grinders 2016
We tried to widen our net, but besides these top 5 single serve coffee makers, we found it difficult to put them in the review: Owing to both build quality and performance. If you have any other single serve coffee maker in your mind, drop us a comment, and we will review that specific coffee maker for you.
Best Single Serve Coffee Makers
Keurig K45 Elite Brewing System

Cuisinart SS-700 Single Serve Brewing System

Keurig K145 OfficePRO Brewing System

Hamilton Beach Single Serve Coffee Brewer

Nespresso A+GCA1-US-CH-NE VertuoLine Coffee and Espresso Maker
Summary
There are numerous reasons for getting a single-serve coffee maker. It saves both time and money that you would otherwise spend in a café. Moreover, unlike other complicated coffee makers, the single serve machines get you a cup without mess.
Check here for detailed review :- Best Single Serve Coffee Maker