I've always been a polygamist when it comes to drinking coffee. It is somewhat impossible to stick myself to a particular kind of beverage. I also think that's the reason why I always prefer single-serve coffee makers to other types of coffee machines. Filling in water, inserting the coffee pod and a press of a button is all it takes to create the perfect cup of coffee and other beverages.
There are more than 12+ single serve coffee makers being launched in the market every quarter, and many of them have some of the other innovative or advanced features.
That having said, not all single serve coffee machines offer the same taste and features. Moreover, you have plenty of selection when you need a coffee maker. For past two months, we have been testing some of the finest machines on the market and for the matter of fact, most of them sucked. But I found some of the best single serve coffee makers after months of research which are as follows:
Single Serve Coffee Maker Reviews – Our Top Recommendations!
Based upon my tests, here are individual reviews of the best single serve coffee maker available in the market: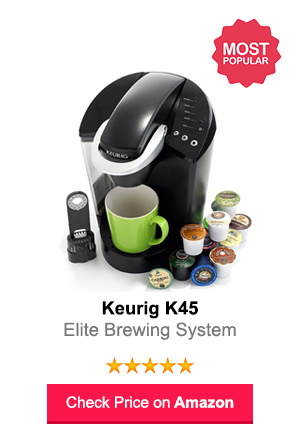 Keurig K45 Elite Brewing System would brew your favorite beverages in different sizes — 6oz, 8oz, and 10oz. Being a Keurig machine, you have the advantage of simply inserting the corresponding pod and pressing its brew button. This is where the 48oz water reservoir helps a lot: you can brew several cups of coffee without having to refill water.
The classic Keurig design of the machine takes no time to get used to. Thanks to the simple button layout, it feels easy to go through the whole brewing process. You can also schedule the coffee maker to turn on and turn off at particular times, offering the best accessibility. According to our tests, the brewing time was quite less than one minute.
We really liked the removable drip tray from two aspects. First, it can easily work with standard mugs as well as travel mugs. Second, you can easily clean the equipment without spilling over anything. Other noticeable features include its compatibility with My K-Cup Reusable Coffee Filter. If you like freshly ground coffee, you have an option for that too.
In short, Keurig K45 Elite Brewing System offers all the benefits of a Keurig machine, along with quicker brew time and higher brewing capacity. You also get a 12-count variety pack with the package.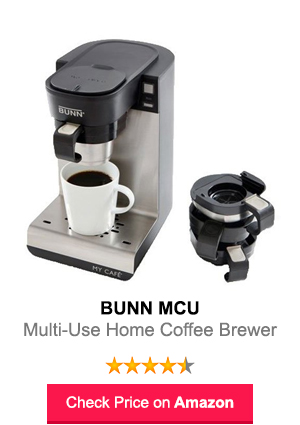 Those who like a somewhat classic design for coffee maker can go for the BUNN MCU Single Cup Multi-Use Home Coffee Brewer. The machine is comparatively expensive but you can brew coffee in different ways. It has inbuilt support for K-Cups, Ground Coffee, Pod, and Water. The Water drawer helps you have hot water on demand for your soups or oatmeal.
Despite being a single serve machine, this one offers advanced functionalities. It's mug placement is so good that you can have your favorite coffee in bigger mugs too. Moreover, brew size can be selected between 4 and 14oz. As far as Ground Coffee brewing is concerned, you can make use of the Pulse Brew mode. We did try this because we always prefer a bolder cup of coffee.
The awesome brewing time of BUNN MCU Single Cup Multi-Use Home Coffee Brewer is achieved with help of the internal water tank. Its duty, as opposed to storage, is keeping the temperature consistent. It's Multi-Drawer System is so complete and easy to use, especially when you want to toggle between different modes of coffee brewing.
Despite the higher price, BUNN MCU Single Cup Multi-Use Home Coffee Brewer offers advanced options and best brewing performance, along with ultimate compatibility.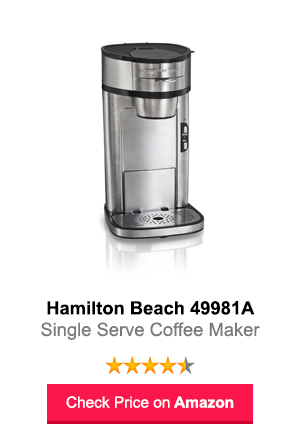 Hamilton Beach 49981A Single Serve Scoop Coffee Maker has been an excellent, budget-friendly machine to brew the perfect cup of ground coffee. Powered by its mesh scoop filter, you can try out different flavors for your beverages. If you think the process is tougher than the coffee pod system, you're wrong. This coffee maker brings you awesome beverages without taking much time.
It is surely an addition to your kitchen design, due to the stainless steel finish. You can adjust drip tray height according to the mug/carafe in use. While the maximum brewing capacity is 14oz, we really loved its option to create a bolder cup of coffee. When we tried the best coffee beans, the bolder cup was quite a heaven. It has just two buttons, making everything simple for beginners.
As far as brewing time goes, Hamilton Beach 49981A Single Serve Scoop Coffee Maker does everything in 90 seconds, which is great for ground coffee brewing. The complete stainless system is effective in maintaining the taste of your coffee. We must say, compared to the features and build quality, the machine is reasonably priced and can be the best choice for ground coffee lovers.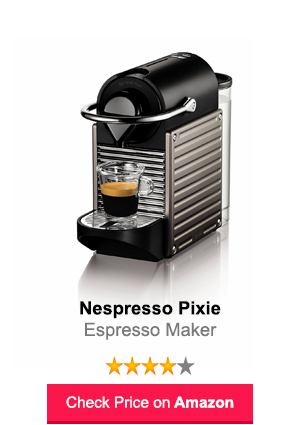 Prefer having an espresso machine with all the benefits of single-serve coffee makers? Then, Nespresso Pixie Espresso Maker is a perfect choice. If you can spend a bit more, this machine lets you use simple capsules to brew the perfect cup of espresso drinks. When compared to others, Nespresso Pixie Espresso Maker has programmable options and an easy-to-use control panel.
In spite of its ultra-compact design, the machine comes with a powerful 19-bar pressure pump. We tried the different types of espresso drinks, and the aroma and taste were incomparable. It's awesome too, because all you have to do is to press a single button. The removable water tank is placed conveniently and it alerts you in case of low water level. The machine can also hold used Nespresso capsules in itself.
In case of both espresso and lungo, the brewing time didn't exceed 30 seconds. This is great when you need a quick cup of espresso drink. The only problem is that you may have to tolerate the extra noise the machine creates. Also, the price is somewhat higher, but reasonable when we consider its convenient features and best taste.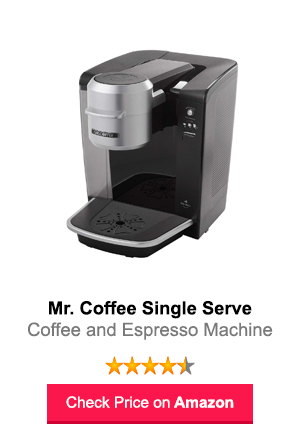 Don't worry if you're not familiar with the manufacturer name. Mr. Coffee Single Serve Coffee Brewer BVMC-KG6-001 is powered by the Keurig Brewing System, which ensures a brewing time of less than a minute. So, you have the convenience of choosing and using any of the K-Cups available in the market. Everything goes fine with the 40oz removable water reservoir, which can give you multiple cups without a refill.
There is no complaint about the quality of coffee that we get from this machine. It also managed to maintain the best temperature and taste over time. 6oz, 8oz, and 10oz are the available brew sizes in the maker, giving you plenty of options. While the actual design accommodates normal cups, you can remove the drip tray if you want to use bigger carafes or travel mugs.
Thanks to the Keurig system, everything in Mr. Coffee Single Serve Coffee Brewer BVMC-KG6-001 works as simply as 1,2,3. You can also use My K-Cup Reusable filter if you don't want to spend on K-Cups on a regular basis. This single-serve coffee maker also offers basic automation features, such as auto-turn-off at 2 hours. The only problem is that you cannot choose a brew strength.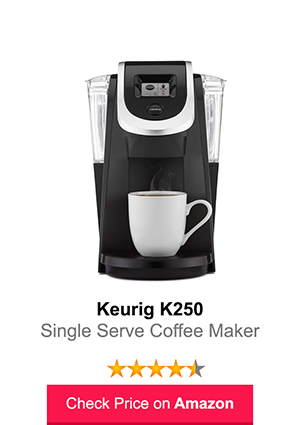 Another pick from the versatile collection of Keurig, this Keurig K250 is a wonderful choice if you have a medium budget. By paying some more amount than other picks, you can have all Keurig benefits and enhanced coffee brewing control. What we liked most in Keurig K250 Single Serve Programmable K-Cup Pod Coffee Maker is its option for Strength Control, Brewing Strength control, and hot water availability.
Every control in the machine can be done through the touchscreen. You can easily change the brew size and select the appropriate brewing strength. Different brew sizes are a great thing when you need more coffee. You can use K-Cup sizes of 4, 6, 8 and 10oz and Carafe sizes of 22, 26 and 30oz. We tried to brew one larger amount of coffee and the performance was quite impressive.
As for the dimensions, Keurig K250 Single Serve Programmable K-Cup Pod Coffee Maker is pretty big and has a corresponding water reservoir too. 40oz is enough even for a big home that consumes a lot of coffee. Some other benefits of the machine include My K-Cup Filter compatibility, availability in multiple colors and high-altitude setting. Altogether, it makes sense to go for this machine if you need more coffee — bolder coffee.
We really love espresso drinks and we know that you do too. So, as the last pick in the list, we have Nespresso Vertuo Evoluo Coffee and Espresso Machine, which is a bit expensive. However, the machine can provide an awesome cup of coffee or an intense espresso in a few seconds. While the put-the-capsule-and-press-button mode hasn't changed, the machine uses a patented technology for extraction.
During our testing, we noticed something: almost everything in Nespresso Vertuo Evoluo Coffee & Espresso Machine is automated. Depending on the Nespresso capsule that you insert, the machine will optimize many settings to give you the best coffee cup. It comes with two in-built brew sizes and either of them should give you multiple cups of coffee, thanks to the 54oz water reservoir on the device side.
If it's not for the performance, we'd recommend Nespresso Vertuo Evoluo Coffee and Espresso Machine for its unique build and style. It easily blends into every kitchen interior and we've seen people using the device in offices too. As a welcome package, you get 12 Nespresso capsules as well, which is great, to begin with. Cut the story short and the single-serve coffee machine can give you the best taste and performance.
How Is Single Serve Coffee Maker Different from Normal Coffee Maker?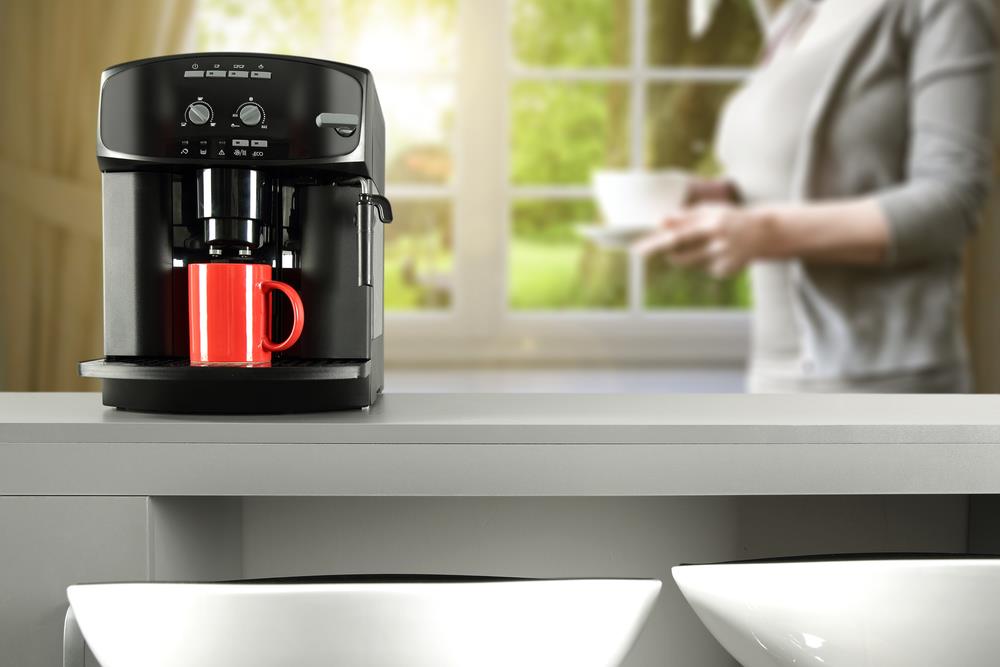 Wondering what's so special about a single-serve coffee maker? Obviously, you know that the machine will create the single-serve amount of coffee. Nevertheless, that's not all you should know about these machines. If compared to the traditional types of coffee makers, there are a few differences. We will have a look on what makes single-serve coffee maker unique from the other types. It should also help you decide whether you've to go for this type.
It needs to be noted that we are talking about drip coffee makers when we use the term 'normal'. Don't try to compare it with other types of coffee machines you may find on the market. So, shall we check out those differences?
Most of the single-serve coffee makers are pod-based. It means that you need to insert a coffee pod into the machine and press a single button. The machine will extract the coffee content from the pod and mix it with water. Then, the coffee is poured into the container that you have placed below. This is quite different from the drip coffee maker, where you need to provide ground coffee and have to make use of certain filters.
You don't have to worry about coffee-water ratios when it comes to a single-serve machine. Even if there's a removable filter, you can add a certain amount of coffee powder only. In case of pods, there is no need to worry about the amount of coffee. So, everything is more or less automated.
Because the machine is automated, there will also be removable water reservoirs, from which water will be taken as per the requirements. After a number of cups have been made, you just have to refill the water. This is pretty convenient if you are someone who drinks multiple cups of coffee every day. Personally speaking, it's great that I don't have to go to my kitchen every time I need a cup.
Different single-serve coffee makers use unique extracting technologies. For instance, some devices are made for creating the perfect cup of espresso in a single click. In those cases, you don't have to worry about anything, but simply insert the required pod and relax.
These are the basic differences that you can find between normal drip coffee makers and single serve coffee makers. They follow different working processes, bringing out with awesome results too.
What Are the Advantages of Using Single Serve?
Now, you may be in a dilemma of picking one from the variety of coffee makers. If you are planning to buy a single serve coffee maker, these are the advantages you can have.
No Wastage
You are, on average, wasting a cup of coffee by not drinking the complete amount that you brew. This isn't going to happen in the case of single serve coffee makers. First of all, you are inserting a pod that is made to create a certain amount of coffee. Also, you can choose the desired brew size depending on your requirements. For someone who lives alone, this is going to be a good option, and also a way to save money.
Convenience at Its Best
If you have a coffee maker with removable water reservoir, single serve coffee maker is the most convenient way to brew a cup of coffee. All you need to do is inserting the favorite coffee pod — or refill the reusable filter that machine supports — and pressing the brew button. When you are rushing to the office in morning, this is somewhat of ultimate convenience.
Easy Management and Cleaning
Except for the once-in-a-while cleaning, single serve coffee makers don't make much of waste. You need not spend a lot of time in the cleaning process anyway. All you have to take care of the drip tray, only if there is something spilled on it. In some advanced machines, there are height-adjustable drip trays that can avoid the aforementioned situation of cleaning.
Versatility
This is some reason why I love single serve coffee makers. It's not like I restrict my tastes to coffee. There are times when I feel like having hot chocolate and other beverages. As long as I have a pod-based maker, it is just a pod-refilling away. Depending on the manufacturer, your coffee machine will have multiple options of coffee brewing and a huge collection of a pod to choose from.
Portability and Consistency
As you can guess, despite advanced functionality, single serve coffee makers are ultimately portable. You do not have to keep it in the same place. it can be moved according to your requirements. Then comes the sole element of consistency. As long as you are using the same coffee pods, you are going to have the same cup of coffee, every single day. This needs to be read along with the aspect of the versatile collection too.
Don't you think these advantages of single serve coffee makers are impressive enough?
How to Choose the Best Single Serve Coffee Maker?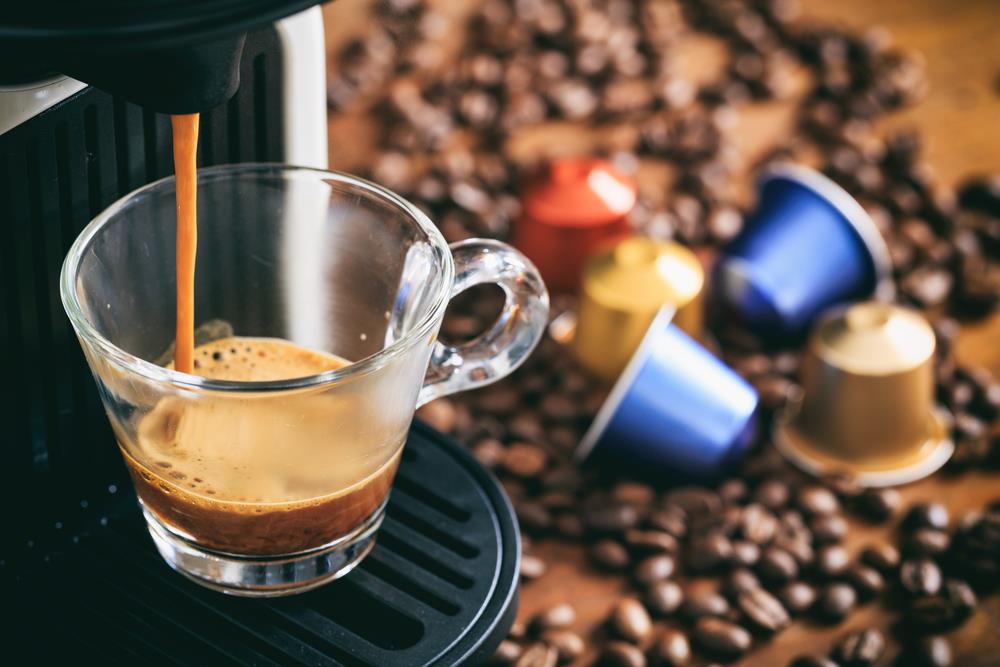 Here are a few things you should know and factors to consider before purchasing the best single serve coffee maker for you. We've made it crisp and short.
Brand and Type
There are different types of single serve coffee makers that can give you different types of coffee. If you are someone who likes espresso drinks, you need to go for a dedicated espresso single serve coffee maker. On the other hand, for standard purposes, the common machines would do the job. Also, depending on personal taste preferences, you can also choose between the brands like Keurig, Nespresso, and Hamilton Beach.
Compatibility with Brewing Methods
Although most of the single-serve machines are pod/capsule-based, not all machines are like that. So, before it is time to check out, you need to consider the compatibility aspect too. There are machines that let you use K-Cups while others allow you to use reusable My K-Cup filters. In some advanced cases, you also have one option to use fresh-ground coffee powder instead of coffee pods.
Water Reservoir Capacity
If you need the real convenience offered by single-serve machines, you need to confirm the required amount of water reservoir space. Suppose you are purchasing the coffee maker for a small home, where there are 3 coffee consumers. Then, it's recommended to go for a water reservoir of 40oz or 50oz, where you don't have to refill the tank frequently.
Brewing Sizes and Controls
Brewing Size is important, because you may not need the same quantity of coffee all the time. In that case, make sure that the machine lets you brew coffee at different quantities — say, 6oz and 8oz. If you are getting an advanced machine with high-performance, you can also look for Carafe-size brewing sizes. It's even great if you can have a machine with adjustable brewing sizes.
Coffee Brewing Control
There are a few factors that can affect the quality of the coffee/espresso that's made. For instance, machines may have an option to select the strength of the coffee. Even if it's a Bolder button, it feels good to have a bolder cup of coffee at times. You can also go for machines with different extraction systems, according to the drink you really need.
Operating Costs of the Machine
This is quite a relative topic because everyone brews coffee in a different way. For instance, if you use coffee maker only with pre-packaged coffee pods, you may have to rethink your selection. However, you always do have an option to go for reusable filters and even ground coffee. The idea is this: even if you are purchasing a low-budget machine, you need to make sure that the prices don't go off your actual budgets in long run.
Along with these, you should keep an eye on portability of design, build quality and the noise that it may create. In the end, you can surely have one of the best coffee makers.
Wrapping Up – Single Serve Coffee Makers
I've been using two espresso machines and Keurig single-serve machines for around 2 years, and they helped me to save a lot of money. Obviously, the consistent cup of coffee every morning has been quite useful too. So, although things may go off your budget at times, make sure that you choose the best single serve coffee maker for you. You are not only having great taste but making the right amount of coffee.
Best Single Serve Coffee Makers
Keurig K55 Single Serve Coffee Maker

CHULUX Single Serve Coffee Maker Brewer

Keurig K250 Single Serve

Hamilton Beach FlexBrew 49983A

De'Longhi NESCAFÉ Dolce Gusto

Ninja Coffee Bar Single-Serve System
Summary
There are numerous reasons for getting a single-serve coffee maker. It saves both time and money that you would otherwise spend in a café. Moreover, unlike other complicated coffee makers, the single serve machines get you a cup without mess.
Check here for detailed review :- Best Single Serve Coffee Maker