Every barista knows the importance of drip brewing for a perfect cup of coffee. For beginners, it is a method of creating coffee wherein the water is poured over ground coffee beans contained in a filter.
We reviewed almost all the popular drip coffee makers available in the market, and only 5 best drip coffee makers made it to the list. Build quality, convenience, and user experience were amongst the rating factors.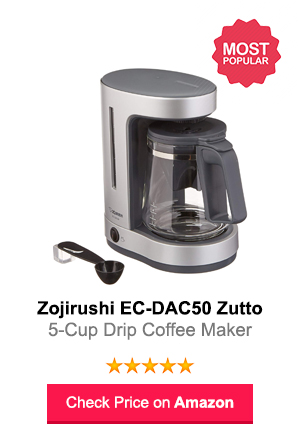 For a family, this coffee maker brews fine. Powered by a 650-Watt motor and its compact design, Zojirushi has come up with a decent tool for making coffee. This coffeemaker can easily handle 5 cups of coffee. However, this doesn't come with an auto-shutoff feature.
Features
Concealed, removable water reservoir; automatic keep-warm function.
Replaceable water filter.
Filter cone sits inside decanter making it more compact and easier to use.
Cons
The auto shutoff feature is one key thing that DAC50 misses out on. The coffeemaker does pull off well in almost every other parameter.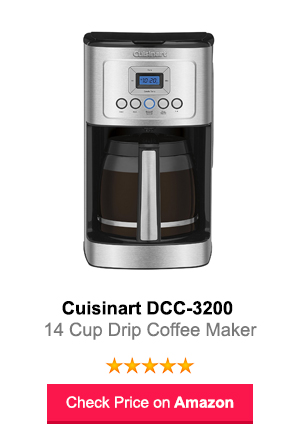 This well designed DCC-3200 is sure to delight any coffee lover with its sleek design and the ability to let a user customize a wide array of features. This is a fully automatic, programmable coffeemaker that can handle any heavy duty brewing and comes with a showerhead.
Key Features
Brew strength control allows you to select regular or bold coffee flavor.
Fully automatic with 24-hour programmability, self-clean, 1-4 cup setting and auto shutoff. (0-4 hours)
Adjustable keep warm temperature control.
Cons
Lid lifts to a right angle, which makes it difficult to use the coffee pot. While this coffee maker gets high marks for brewing coffee and giving a lot of control to its user over a wide range of things, it doesn't perform well in terms of design.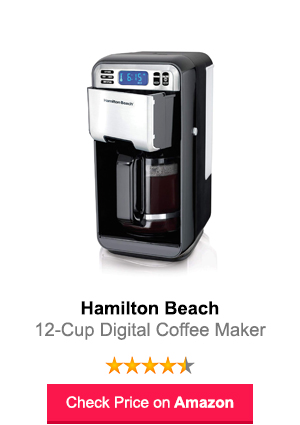 Although it wasn't the best of the coffee makers that we included in our top charts, Hamilton Beach 12-cup coffee maker still deserves a mention. Its heavy duty brewing capacity at a sub $30.00 price is a steal.  It does come with a wide range of features, especially the auto shut-off that even Zojirushi EC-DAC50 misses out on.
Key Features
Brews a full 12 cups, and dispenses one fresh cup at a time, allowing for more consistent flavor.
Digital display; removable water tank; water-level indicator; dishwasher-safe parts.
Dispensing bar for one-handed serving; keep-warm mode; customizable auto shut-off.
Cons
The build quality isn't the best. Although Hamiton does back things up with a fine customer service, this coffee maker gives up quite easily. But for this price tag, it is certainly a bargain.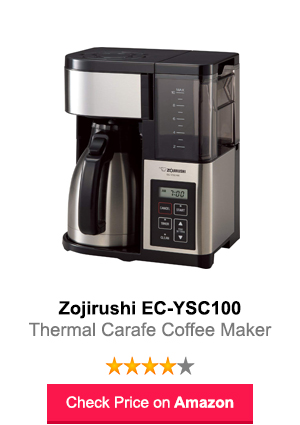 If you are ready to loosen your purse strings for your favorite drip coffee maker, then YSC100 is one of the top choices out there. Powered with drip prevention and an impressive Tapered design, YSC100 would delight any coffee lover.  One thing where this coffee maker stands out is the cleaning part – something that is essential for a long life of a coffee maker.
Key Features
Clean light alerts you when cleaning is recommended
Removable water tank – For easy water filing.
24-hour programmable timer – Delays brewing for fresh coffee in the morning.
Drip prevention mechanism when the carafe is removed from the unit.
Cons
The only con with this brewer is the price. Other than that, it covers almost all the flaws of other coffee makers with easily detachable parts, automated shut off feature, and handy cleaning experience.
Available in dual colors – black and white – this coffeemaker competes well with Hamilton in sub $30.00 price tag category. With auto-shutoff and other automatic features, Mr. Coffee has made a fine attempt to delight the drip coffee lovers with a limited budget.
Key Features
2-Hour auto shut-off – Keeps your coffee hot for two hours and then automatically shuts itself off.
Removable filter basket – lifts out for fast and easy filling and cleaning.
Brewing pauses and serve – Lets you pour a cup of coffee while the coffeemaker is still brewing.
Dual water window – Shows the amount of water in the reservoir for accurate filling.
Cons
As with Hamilton, the build quality isn't great, as a result, it doesn't work well with continuous usage. But compared to Hamilton, Mr. Coffee's CGX23 is marginally better. A good care and regular cleaning would ensure a longer life of CGX23.
Conclusion
While reviewing the coffee machines, we really had to narrow it down to five, because others that we did review weren't good enough to be included in the list of top 5 best drip coffee makers. However, if you have zeroed down on buying a drip coffee maker apart from these and want us to review that then feel free to drop us a comment.